WE DRINK ALL WE CAN, THE REST WE SELL.
Our family has been roasting coffee in San Diego since the late 1960s. With a long-time love of vintage motorcycle racing, technical involvement with espresso machines and coffee blends, we launched Cafe Moto in 1990. We continue to create new products and offerings to meet the changing tastes of our customers and keep pace with the evolving demands of the market – in San Diego and around the country.
Our logo incorporates the vapor gauge of the coffee machines and the fast-winged freedom of the open road. Inside the roastery a small machine workbench and parts occupied one half, and a demonstration/sales room filled the other. Bringing prospective clients to the roastery and offering a close-up experience of the whole coffee concept from the green to the cortado has proven to be a winning formula for us and our customers. The coffee we serve is the focus, but the racing fundamentals of customization and performance remain core principles of our business.
Raphael roasting coffee beans in our vintage 1931 Jabez Burns American Jubilee Batch Roaster.

Over the years, our roastery has moved to several different San Diego locations. Now we are in our fourth roastery store location in the Barrio Logan neighborhood of downtown San Diego where customers and clients can enjoy our cafe, store and roastery. In Barrio Logan, we've been able to blend the best of old and new, adding 105 solar panels for a 30 kilowatt system while continuing to use our 1931 Jabez Burns American Jubilee Batch Roaster. We roast coffee in small batches, four to five days per week, promoting freshness and quality. Our product listing still includes equipment, teas, chocolate mixes, apparatus and many ingredients for a home, commercial or professional coffee bar establishment.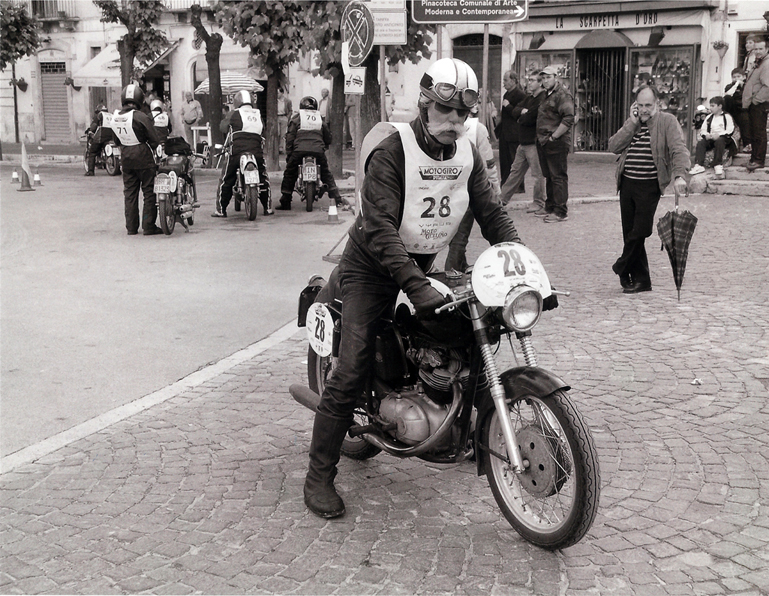 Large photo above: 1931 Jubilee Batch Roaster still in action.  Above: Bob on his motorcycle at the Giro di Italia.
Cafe Moto coffees come from all over the world – and our brew ratio of 16:1 makes for amazing flavor, aroma and viscosity. We follow Kosher, Fair Trade and Organic certifications that add to the value, traceability, sustainability and longevity of our supply chain relationship communities. More recently, we've made gender equity and women-led cooperative coffees a focus as another of our think globally, act locally initiatives.
Our business has grown to include roastery tours, offsite tasting, samplings and demonstrations. Our sample kitchen has hosted a range of students from head chefs and first-line baristas, to ex-bankers and tile workers. We provide educational support, training and guides to the market, with respectful representations of wonderful coffees and teas.
Our sales team lets the product do the talking while offering tasting, training and calibration of equipment for the best practices and wonderful, consistent results. Our Cafe Mechanica service crew is on call throughout the city to assist our retail customers with their grinders or espresso machines. We personally deliver our products to local cafes and restaurants, while UPS helps us distribute across the country. Our website encourages customers to shop, learn and explore.
Our vision to be a company that strives to make a lasting, positive impact on the places we conduct our business goes into every roast we offer. Customer satisfaction with our coffee and tea products has kept clients coming back for years.
Led by second-generation owners Torrey and Kimberly Lee, Cafe Moto remains focused on our customers, family and community.